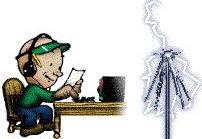 Welcome to the gateway to the Hallicrafters Virtual Museum. Most of the 49 color pictures of the radios made by Hallicrafters and featured in this museum are ones that were in my own collection at one time or another. Thanks to John Anderson (AC5TX) for the pictures of the BC-610.

Copyright © 2003, 2004, 2005, 2006, 2007, 2008
"For information on how to get your own copy of the hallicrafters virtual museum in an e-Book format..."
Copyright © 2003, 2004, 2005, 2006, 2007, 2008